The Scott Pilgrim game is out on PSN, and soon on XBOX Live, go get it.
I was lead animator and did all playable characters and strikers, almost all bosses and other art here and there.
Other animation was done by
Jonathan Kim
,
Mariel Cartwright
and Justin Cyr.
Stephane Boutin
did the backgrounds and all round graphics supervision.
Jonathan Lavigne
did the game design and additional art
.
Here's some of my stuff
: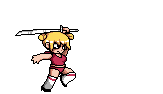 Also the Scott Pilgrim movie is totally amazing and you should see it. Remember to watch the end credits to see some of my animation.